Distribution boards and enclosures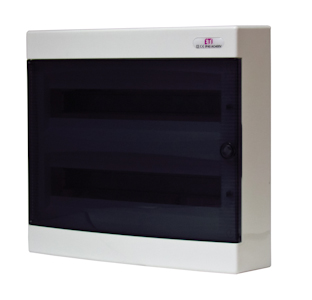 DIDO E (IP 40)
Home distribution boards DIDO-E are available in two types: surface mounted and flush mounted boards, in one, two or three row design.
Available with transparent or white doors.
With lock set installation the board can be locked. Home distribution boards can easily be built in and already have a DIN rail installed for easier and quicker mounting of module devices.
Terminal blocks for PE and N conductors are attached as standard for all distribution boards. Distribution boards correspond to condition of insulation protection and are in accordance with standard IEC60670-24.
DIDO-ECH (IP 65)
Watertight wall-mounted distribution boards apply in domestic and industry architecture for mounting modular equipment for protection (IP65) against wet, dust and another dirtiness.
Enclosure is made of high thermal stability material - ASA (Acrylonitrile-Acrylic-Styrene), plastic with good dielectrical and mechanical attributes, UV resistant ( colour stability). Easy and quick montage.
Accessories
Please find the the available accessories for DIDO E in the commercial part of the catalog.